Launchgrad News, Events & Opps w/c 21st September 2020
September 21, 2020
News
Graduate Associate Membership and Residencies
We have had to freeze applications for Graduate Associate Membership so that we comply with COVID safety guidelines around physical access to buildings and our current graduate associate memberships remain frozen, with members asked to not access physical facilities in college.
For the same reason we have  also had to freeze the Graduates in Residence scheme, but will soon be circulating a short  'expression of interest' form to this years grads so we have a record of those who may be interested in the scheme in future.
Keep in touch
Are you graduating this September? If so, please don't forget to opt-in to communications from Launchgrad so that we can still send you newsletters and details of opportunities at HCA. To opt-in, click the link below:
LINK:  https://www.hca.ac.uk/keep-in-touch-with-hca
PASSWORD: grad2020
Graduate Outcomes Survey
Did you graduate from a BA course at HCA in the Summer of 2019? You will soon be sent a link to a national survey capturing the activities and perspectives of graduates, known as Graduate Outcomes. This launched in 2018 and is the biggest annual social survey in the UK. We will use your survey responses to help us develop our courses here at HCA. Find out more about the survey on their website, on our blog or by contacting us.
Launchgrad new site
We've updated our new Launchgrad website with weekly news, events and opportunities. We hope to release monthly blogs with more specific advice and resources for creative graduates from the start of the next academic year.
We'd love your feedback about what you'd like to see on our page and other ways we can support you!
You can always get in touch with one of us (Sarah-Jane Crowson and Lily Morris) using our email address – hcalaunchgrad@hca.ac.uk And if you don't already, follow us on Instagram for posts about grad life and more opportunities for creatives!
Events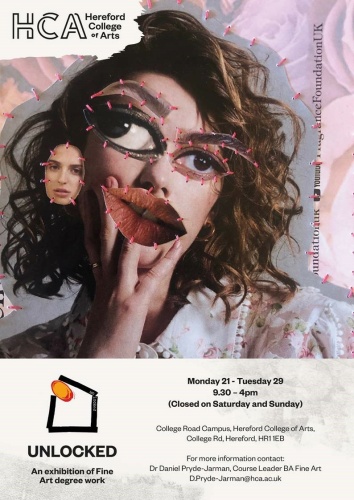 Monday 21 – Tuesday 29 September, 9.30am-4pm
FREE
Our L6 cohort, who formed an art collective entitled unlocked over the summer, have returned to put on this showcase of their work in a number of sites around the College Road Campus, including the main hall, central courtyard, A7, near the main entrance, and side entrance (by the canteen). No booking necessary for visits during these opening hours. Social distancing and masks to be worn in the exhibition spaces. Do please pop in to see what our students have been up to this year so far!
Friday 25 September, 6.30pm – 9pm
FREE
Would you like to dance, observe, take photos, create moving image, play music, discuss and collaborate? Once a month, professional artists from all backgrounds and genres will visit our Centre for Movement in Hereford to explore, create, collaborate and play. PlayBOX is a Covid Safe creative platform providing a space to play with ideas and interact with other artists. We aim to build a creative and playful environment which is representative of the diverse artistic community in Herefordshire.
Until Sunday 9 May 2021
£13
Explore the work of internationally acclaimed photographer and HCA fellow, Don McCullin. This major exhibition traces his 60-year career documenting international conflicts and working-class life in the industrial north. See over 200 of his powerful and poignant photographs at Tate Liverpool.
Find out more and book your place here
Opportunities
Deadline: Tuesday 13 October
VAST is dedicated to creating a platform that highlights, celebrates, and circulates the most inspiring work being made today.All mediums are welcome: painting, photography, sculpture, ceramics, installation, video, new media, mixed media, and more. Featured artists will be profiled in a full color print spread showcasing their work, artist biography, and artist statement. Featured artists will also have the opportunity to be highlighted on vast.art via a profile or interview.
Deadline: Monday 2 November
The project should offer an accessible way of looking at colour for audiences of varying levels of knowledge about art and colour, and different cultural experiences of what colour means. The 'Atmospheric Colour' exhibition will tour Hounslow's Libraries for up to two years. Proposals for exhibitions that respond to the theme of 'Atmospheric Colour'. This could include works that use colour to convey mood, emotions, or a sense of wellbeing, explore the colours that have significance for people living in Hounslow (either culturally, socially or within the environment). The exhibition could function as a place of sanctuary or peace and we would like local people to feel engaged and inspired when experiencing the work.
Find out more and submit your work here
Deadline: Monday 5 October
Grizedale Forest & Signal Film and Media, with support from Art Fund, are seeking a socially engaged digital artist/collaborative to create a new, online participatory artwork responding to Grizedale Forest in Cumbria in the North West of England. The Digital Forest will capture a truly unique moment in time as visitors slowly return to the forest and once again become reconnected with nature after lockdown. Fee: £3000
Jobs & Funding
House of Prints are offering three bursaries to art graduates of 2019 and 2020 – which include a cash award of £350 and a package of access/courses from one of our partner studios.
Apply here
***
Marketing & e-Commerce Officer
The Exchange, London
Production Team Manager
Granby workshop, Liverpool
Website Designer
Hereford, Ask Launchgrad for details
Care leavers paid internships:
Administrative/Executive Officer roles available
HM.gov
If you are involved with a project, or would like to mention something for next week's Launchgrad newsletter, please get in touch!