Launchgrad News, Events & Opps w/c 28th September 2020
September 29, 2020
News
Sidney Nolan Trust Residency Prize
Huge congratulations to graduate Rae Stevens, who won the Sidney Nolan Trust residency prize at the private view last week! Each year the Sidney Nolan Trust award a weeklong residency to a graduate of the Fine Art Programme. The residency is awarded on the merit of the work and the relationship between the student's practice and the scope that the residency will provide them. Curator Antony Mottershead gave Rae the award this year and has also offered Rae and 2 other students a group exhibition opportunity at the Sidney Nolan Trust in the spring, which is also great news. They are David Saunders and Helen Thompson.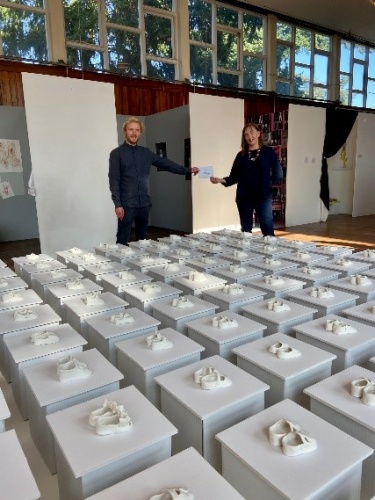 Graduate Outcomes Survey
If you graduated from a BA course at HCA in the Summer of 2019 you may have already been sent a link to a national survey capturing the activities and perspectives of graduates, known as Graduate Outcomes.
We'd like to thank those who have already filled out their surveys – thank-you SO much – this really helps us. And if you haven't already been sent a survey please keep an eye out for a link or text from the Graduate Outcomes team.
We will use your survey responses to help us develop our courses here at HCA. Find out more about the Graduate Outcomes survey on their website, on our blog or by contacting us.
Graduate Associate Membership and Residencies
We have had to freeze applications for Graduate Associate Membership so that we comply with COVID safety guidelines around physical access to buildings and our current graduate associate memberships remain frozen, with members asked to not access physical facilities in college.
For the same reason we have  also had to freeze the Graduates in Residence scheme, but will soon be circulating a short  'expression of interest' form to this years grads so we have a record of those who may be interested in the scheme in future.
Events
Enterprise Thursday
Thursday 8th October, 12.30pm – 1.15pm
FREE
We will be launching our Autumn Enterprise Thursdays from October. Our first session will take place on Thursday 8th October. We are launching a themed programme of Enterprise Thursdays this year, and we will use this session to informally share and discuss the programme to give you a chance to shape this year's activities. Save the date and we will send out further details and joining instructions closer to the time.
Visiting Lecturer: Liz Hingley
Thursday 1 October
FREE
Our B.A (Hons) Photography course is pleased to invite recent graduates to Photographer Liz Hingley's online lecture. She describes herself as a photographer and anthropologist. Find out more about Liz Hingley and her socially engaged practice on her website.
Contact Launchgrad to join the lecture on Teams
Monday 21 – Tuesday 29 September, 9.30am-4pm
FREE
Our L6 cohort, who formed an art collective entitled unlocked over the summer, have returned to put on this showcase of their work in a number of sites around the College Road Campus, including the main hall, central courtyard, A7, near the main entrance, and side entrance (by the canteen). No booking necessary for visits during these opening hours. Social distancing and masks to be worn in the exhibition spaces. Do please pop in to see what our students have been up to this year so far!
Making for Change is Craftpace's project for young people that investigates positive social change through combining craft with activism (craftivism). Young people come together to learn, explore, discuss and make; creating campaigns around issues that are important to them in order to generate a change in themselves and their community. The Making for Change Expo was meant to be a physical exhibition at the Gap Arts Project in Birmingham in May 2020. The aim was to showcase work from some of the inspiring campaigns that have taken place over the past few years. The COVID-19 pandemic changed plans but the Expo is now online!
Find out more, view the EXPO and become a craftivist here
Opportunities
Fully funded PhD opportunities at Coventry University
The Centre for Arts, Memory and Communities (CAMC) at Coventry University invites applications for fully-funded PhD studentships within our dynamic, multidisciplinary research centre. CAMC is home to a vibrant research culture that weaves together three strands of scholarship: Critical Practices, Cultural Memory and Well-being and the Arts. We invite applications for five fully-funded PhD studentships, commencing in January 2021. Each project responds to the Covid-19 pandemic by seeking creative and innovative interventions into the cultural conditions produced by such crises historically, in the moment, and as they are likely to persist in and alter post-Covid experience.
Deadline: Wednesday 30 September
The Fellowship is offered online and is directed to aspiring techart practitioners from any discipline of art and design. It is a unique  opportunity for a community of hand-picked international fellows to use the limitations of the current moment to explore and showcase collaborative learning and making with Artificial Intelligence and Machine Learning technologies. You'll learn about the evolution of AI, You'll learn about the evolution of AI, build a show-worthy interactive AI based artwork in addition to smaller creative experimental pieces and showcase selected works at our finale online exhibition.
Deadline: Thursday 15 October
Foundwork is a platform for artists to introduce their work to people across the global contemporary art community. The 2020 Foundwork Artist Prize includes an unrestricted $10,000 USD grant and studio visits with each of this year's distinguished jurors. The honoree and three short-listed artists will also be featured in interviews as part of the Foundwork Dialogues program. Artists will need to sign up and create a profile on Foundwork, with at least 5 published artworks.
Deadline: Monday 19 October
Chapter Arts Centre is seeking a freelance artist-practitioner for a new commission. A range of works will be on show including STAND, a large installation that has been created by more than 100 mental health service users to highlight the importance of 'making' for those affected by mental illness. The exhibition is visually and conceptually rich, and touches on issues that will resonate with so many, particularly during these extraordinary times. We would therefore like to invite an artist-practitioner – from any art form including visual, performance, music, writing, film, dance – to develop a creative response to the work.
Deadline: Sunday 1 November
Show us projects that combine different materials in unique and interesting ways. Win prizes from Modulor to choose from their huge selection of professional art supplies and get featured in ArtConnect's Magazine as well as Modulor's own magazine for creatives. This open call is created especially with the new school year in mind and is open to students registered at art schools in Europe. Projects may be either digital or analog as long as they incorporate and highlight at least two materials in combination or juxtaposition.
Deadline: Monday 22 December 2020
This Film Festival will take place both online and live at the Toyama Glass Art Museum in Japan. Applications are now open for female artists/ filmmakers who wish to participate in the second presentation of the Glass, Meet the Future Film Festival 2021. We are interested to hearing from female glass artists using the medium of film and glass in their work, or documentary-style film about glass, making and materials.
Jobs & Funding
Prospects, the experts in graduate careers, have updated their careers advice to respond to COVID. On their website is advice about:
Filmmaker/editor
English Bicknor Primary School requires a filmmaker & editor for virtual open day video.
Own equipment required- Deadline: Monday 12 October
Ask Launchgrad for contact details
The Museum of the Home, London – Deadline: Monday 5 October
Apply here
Spike Island, Bristol – Deadline: Wednesday 30 September
Apply here
The Albany, London – Deadline: Friday 2 October
Apply here
FleishmanHillard Fishburn, London – Deadline: Saturday 10 October
Apply here
The Black Artists Grant is £2,000 given out monthly to black artists in the UK, with each artist selected receiving £500 each. Apply here
You are welcome to get in touch with one of us (Sarah-Jane Crowson and Lily Morris) using our email address – hcalaunchgrad@hca.ac.uk And if you don't already, follow us on Instagram for posts about grad life and more opportunities for creatives!
If you are involved with a project, or would like to mention something for next week's Launchgrad newsletter, please get in touch!