Launchgrad News, Events & Opps w/c 1st February 2021
February 5, 2021
News

HCA Sustainability Team
Hereford College of Arts now has a dedicated team of staff and students who are joining together to improve the environmental impact of HCA and reduce our carbon footprint. As an educational institution with a mission to empower creativity to enrich our world, we embrace the responsibility to take action to reduce our carbon footprint and support an environmentally sustainable future. Keep updated with their work on Instagram, and on the website (coming soon).
Launchgrad Survey
 Thank you to everyone who completed our survey – We will be going into more details about the results and reviewing the answers in the coming weeks.
Graduate Associate Membership and Residencies
All Graduate Associate Memberships are currently frozen, due to the current pandemic. Our pilot Graduate-in-Residence scheme is also frozen.
HCA promised to review this situation in January 2021. But as you'll be aware, the situation in the UK regarding Coronavirus continues to be volatile and we have therefore currently suspended standard on-campus teaching for seven weeks as part of the current national lockdown situation. Given this situation, we will continue to freeze all Graduate Associate Memberships and will continue to deliver all Enterprise sessions online.
Details of Enterprise sessions and other online opportunities to connect with HCA will be communicated through regular Launchgrad newsletters and on our blog. We will review the situation again in June and will let you know of any changes through our newsletter and blog.
Events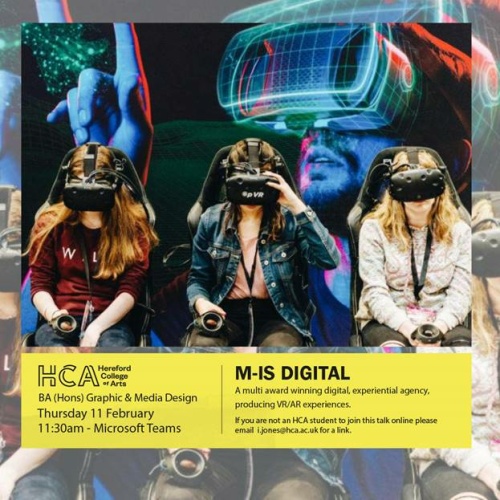 Graphics Guest Lecture: M-IS Digital
Thursday 11 February, 11.30am
Free, Teams
A muti award winning digital, experiential agency producing VR/AR experiences.
If you are not an HCA student, please email i.jones@hca.ac.uk
Until Saturday 27 February
Free, Online
A new online exhibition of work at Apple Store Gallery from ASG and Artsite 3 studio artists, on display until 27 February, where you will find a selection of work the artists have produced during the past year or so. The aim is to give a flavour of the wonderful creative activity which is ongoing in these adjacent venues.
Click here to view the exhibition
Until Tuesday 9 February
Free, Online
Jeremy Mayer and Joel Urruty, offer different takes on the human form. Mayer's work is made out of 100s or 1000s of pieces built from a strict palette of typewriter parts. Urruty uses more traditional materials for his modern minimalist sculptures employing wood, bronze, and stone to create his work.
Click here to view the exhibition
Until Friday 19 February
Free, Online
Richard Hamilton: Towards a Definitive Statement is a major retrospective celebrating arguably the most influential British artist of his generation, Richard Hamilton (1922 – 2011), which was due to open in our gallery in early January 2021 but can now be seen online only; it coincides with the publication of a new book by Michael Bracewell that provides a fresh interpretation of an artist whose achievements and legacy remain unmatched.
Click here to view the exhibition
Until Sunday 21 February
Free, Online
With animation, drawing, cinema, music and theatre, South African artist William Kentridge has built a sprawling work, combining techniques and disciplines. The exhibition is a unique chance to see some of Kentridge's most iconic works: large-format tapestries and the full series of 11 short animation films, Drawings for Projection. The CCCB is the first place in Europe to premiere Kentridge's latest film, City Deep.
Click here to view the exhibition
Tuesday 9 to 23 February
Free, online
To celebrate the arrival of the Year of the Ox, we have worked with artist Stephanie Jong to create a lantern making workshop that you can take part in from home, using simple, readily available materials and techniques. In this workshop, Stephanie will instruct you how to make 3 different styles of paper lantern.
Click here to join the workshop
Opportunities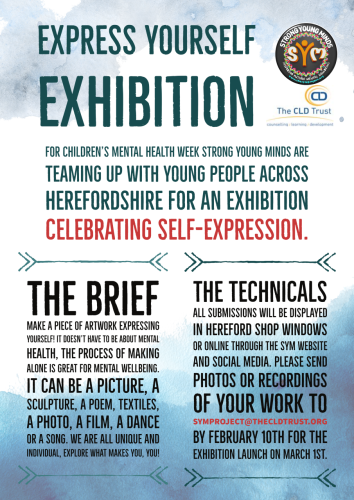 Strong Young Minds Open Call
Deadline: Wednesday 10 February
SYM are asking for submissions for an exhibition we are holding to celebrate Children's Mental Health Week.
Willow Gallery: Call for Artists
If the gallery is able to reopen for the Spring, the next exhibition will be Painting with Words, celebrating the influence of literature and language on the visual arts. Painting, drawing, printmaking, mixed media, collage, digital art, photography and sculpture are all welcome entries. Artists interested in exhibiting, please email the Gallery on willowgalleryoswestry@gmail.com for further information and an entry form.

HCA Sustainability Sticker Competition
Deadline: Monday 22 February
We are inviting students who would like to give it a go, to design the HCA Sustainability team some stickers! We're looking for a design/s which will remind users to switch off lights, electronic devices and consider their energy usage. The winning logo will be printed onto biodegradable stickers and utilized in every department on both campuses
Please submit your design by email to sustainability@hca.ac.uk before Monday 22 February, 5pm. The winner will be announced in our next newsletter and on our Instagram page.
Jobs & Funding
Graphic Designer
4FILM Ltd
4FlLM Ltd. is looking for a graphic designer to come up with a new visual identity for our company. 4Film is one of the leading film production companies in Croatia and in the Central Eastern European region based in Zagreb, Croatia. 4Film's comprehensive portfolio contains some of the best and most successful Croatian films of all time. Our projects received more than 41 international awards at numerous international film festivals and had a successful theatrical and television distribution in over 70 countries, and a VOD distribution in more than 190 countries worldwide. In 2016, our film "You Carry Me" (directed by Ivona Juka) became the first film, not only from Croatia but from the whole region, to be bought by Netflix – and at this point, it is available for over 200 million people to watch.
1) Send us your name, surname, contact information (email and cell phone)
2) Send us a short review of our film previous film "You Carry Me" (since its aesthetics and visuals will serve as key inspiration for our new visual identity) – AVAILABLE ON NETFLIX TO WATCH ) One to three examples of logos
4) A short text that describes the visual identity elements (sign, name, colors, typography) and their relation
CONTACT: Tomislav GoleE Babié (Head of Marketing and Communications) tomislav.goIes.babic@4film.hr
GRAPHIC DESIGN INTERN
Vicious Punx, Hereford
We are looking for a Graphic Design Intern to join us for a 3 month internship.We're looking for a motivated and organised individual with an extremely creative mindset to work directly with our young, close-knit team.
What's in it for you?
The opportunity to create engaging, high-quality content for our website and digital platforms, as well as supporting us with clothing and accessory designs (great for
your portfolio!)
Developing relationships with a range of clients and partners
Learn about the online retail and fashion industry
Roles & responsibilities:
Create multimedia graphics – including logos,
colour palettes, creative concepts, promotional material and brand guidelines
Create and design digital materials – inc. social cards, pdf guides, web imagery,
Retouch and manipulate images
Use graphic design software and work with a wide variety of media
Collaborate with me to develop ongoing design concepts
Design and assemble PowerPoint presentations as needed
The ideal candidate will:
Have either a degree or be in final year degree in a relevant subject, or relevant web graphic design skills developed through work experience or personal interest.
Have a basic knowledge of layouts, typography, line composition, colour, and other graphic design fundamentals
Strong creative and communication skills
We are looking for a Social Media & Content Intern to join us for a 3 month internship. We're looking for a motivated and organised individual with excellent writing ability to work directly with our young, close-knit team.
What's in it for you?
The opportunity to create engaging, high-quality content for our social media platforms (great for your portfolio!)
Experience managing and maintaining business social media accounts
Developing relationships with a range of clients and partners
Learn about the online retail and fashion industry
Roles and responsibilities:
Help managing, scheduling and maintaining our social media platforms
Creating content for our social media platforms
Creating material for our members (PDF's, Guides, Newsletters)
The ideal candidate will:
Be organised and proactive
Have a good understanding of major social media platforms
(Twitter, Instagram, Facebook, LinkedIn, Pinterest – but especially IG and FB)
Have an excellent standard of written and spoken English (it is really important that your written work is bullet-proof)
Know how to use Canva, Photoshop or similar to design posts and material such as worksheets
Be creative and happy to put forward ideas for press releases, posts, competitions, campaigns and more
A good knowledge of basic computer programs (Microsoft Office, Gmail etc.)
An interest in Alternative Fashion or Fashion Design is beneficial but not essential
You will be expected to work 15-30 hours per week over a Monday-Friday period with weekends off. This position is PAID for 3 months with a negotiable start date and negotiable daily hours that work for you and us. At the end of this internship, if you have been successful and you would like to work within the team in a more hands-on position, we can look to create a permanent role within the team for you.
If you think you're the right person for either of these positions, or you have any questions about the roles, do get in touch with us: internships@viciouspunx.com. Please let us know what interests you about the role, send examples of your portfolio and why you believe you would be a good fit for the role.
2Faced Dance Company, Hereford
You are welcome to get in touch with one of us (Sarah-Jane Crowson and Lily Morris) using our email address – hcalaunchgrad@hca.ac.uk And if you don't already, follow us on Instagram for posts about grad life and more opportunities for creatives!
If you are involved with a project, or would like to mention something for next week's Launchgrad newsletter, please get in touch!