Launchgrad News, Events & Opps w/c 15th February 2021
February 19, 2021
News
Graduating this year?
Make sure you sign up to our weekly newsletter before you leave! We share a range of external opportunities, as well as invitations to recent graduates from our BA or MA courses to attend online college events. Please sign up on our website to stay in touch!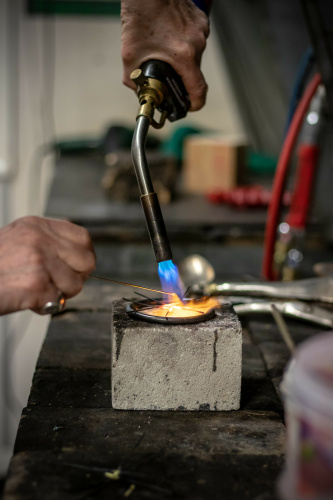 If you're looking to brush up your skills, or try something new, there are a few remaining places on the Summer Short Course programme, starting in April. Choose from a variety of evening classes on their website.
Graduate Associate Membership and Residencies
All Graduate Associate Memberships are currently frozen, due to the current pandemic. Our pilot Graduate-in-Residence scheme is also frozen.
HCA promised to review this situation in January 2021. But as you'll be aware, the situation in the UK regarding Coronavirus continues to be volatile and we have therefore currently suspended standard on-campus teaching for seven weeks as part of the current national lockdown situation. Given this situation, we will continue to freeze all Graduate Associate Memberships and will continue to deliver all Enterprise sessions online.
Details of Enterprise sessions and other online opportunities to connect with HCA will be communicated through regular Launchgrad newsletters and on our blog. We will review the situation again in June and will let you know of any changes through our newsletter and blog.
If you are interested in signing up to become an Associate Member, email l.morris@hca.ac.uk
Events
Artist Blacksmithing Guest Lecture
Peter Braspennix
Friday 19 February, 4pm
To access, email d.done@hca.ac.uk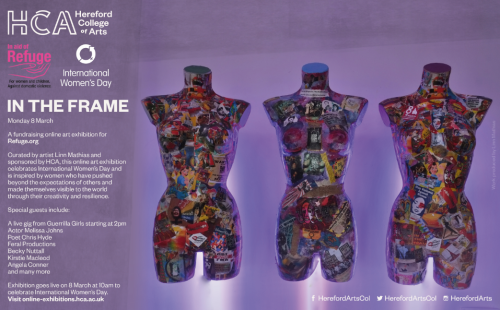 Monday 8 March
The exhibition is curated by HCA BA (Hons) Fine Art graduate Linn Mathias and sponsored by HCA.  This online art exhibition celebrates International Women's Day and is inspired by women who have pushed beyond the expectations of others and made themselves visible to the world through their creativity and resilience.
Special guests include:
A live gig from Guerrilla Girls
Actor Melissa Johns
Poet Chris Hyde
Feral Productions
Becky Nuttall
Kirstie Macleod
Angela Conner
and many more
Exhibition goes live on 8 March at 10am to celebrate International Women's Day.
The live gig with Guerrilla Girls starts at 2pm on 8 March. Lasting about 1 hour, they take the audience through the evolution of their many posters, billboards, actions, and books. They share trade secrets about their use of facts and humour to expose discrimination and corruption in art, film, politics and pop culture. This presentation is followed by 20 minute Q&A with audience members.
Click here to access the event
Friday 19 – Sunday 21 February
Previously confined to London, the BFI's Future Film Festival is designed to help provide young and emerging filmmakers with insight and opportunity to really get into the industry, there are over 20 events, sessions and screenings as well as the 2021 Future Film Awards! Supported by Netflix.
Tuesday 23 February 1 – 2.30pm
Online, Free
The field of architectural metalwork encompasses a wide range of structures and materials. This webinar will cover what we mean by architectural metalwork, the main metal groups, their properties and typical problems.
Part 2, Conservation of Architectural Metalwork: Iron Gates and Railings will take place on Tuesday 16 March. More online webinars are available on their website
Click here to book your free place
Illustration & Animation Guest Lecture
Claire Cheung
Thursday 25 February, 1.30pm
Teams, Free
Next week's Illustration/Animation talk is with Claire Cheung who is the agent responsible for Illustration at Studio Pi. Studio Pi is a new agency that seeks to represent artists (including Photographers) from under-represented groups across society.
Email n.hadfield@hca.ac.uk to join the meeting

Sunday 7 March 10.30-11.45am
Online, £7.50
Experience the joys of Bollywood dance, India's universal expression. In Sabira's second workshop at Dancefest, she'll be looking at Hip Hop's influence on Bollywood. Learn fun moves inspired from hip hop's popping, locking, tutting, waacking and Boogaloo.
Opportunities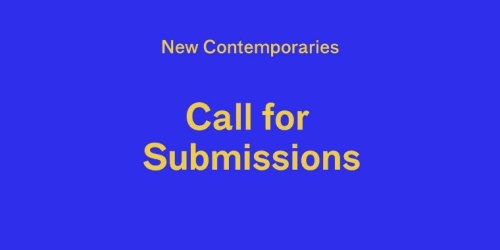 Deadline: Monday 1 March
We welcome submissions from emerging and early career artists who are final year students, recent graduates and postgraduate students from UK art schools and alternative learning programmes. To apply, up to 5 artworks should be submitted through our submission website.
Being selected for the 2021 programme includes:
Exhibiting as part of Bloomberg New Contemporaries 2021 at both Firstsite, Colchester & South London Gallery with an artist's fee and reasonable travel and accommodation costs covered for the private view of both exhibitions;
Participating in New Contemporaries Bridget Riley Artists' Professional Development Programme, which includes 1to1 mentoring delivered in partnership with Artquest; Peer Networking Sessions; Symposia and other educational opportunities;
Contributing to our Digital Programme of blogs, vlogs, workshops, events and the opportunity to present work on our online spaces;
Being eligible, as alumni, for Studio Bursaries, Residencies, Scholarships and other opportunities;
Being part of a network of other participating artists and previous alumni that spans over 70 years.
Click here to find out more and apply
We are searching for the finest makers, craft galleries and craft organisations to join our Find a Maker Directory and Business School.
We have spent 18 years creating some of the most beautiful craft festivals in Europe. Along the way, we have gathered a loyal and knowledgeable audience of followers that love and appreciate handmade. We want to connect our audience with a curated collection of finest makers, regardless of where they are based.
We also know how challenging it can be to run a creative business. Our Business School is an extension of our popular course, Preparing to Sell. We will run monthly tutorials via Zoom on a variety of subjects to support your business. Tutorials will be delivered by a range of experts on marketing, approaching the press, social media, how to broadcast live, photography, taxation, fundraising, intellectual property, exporting, wholesaling and anything else that you might need.
Soon, we will be launching the Find a Maker website and opening applications and all those who have registered their interest will be send further details of how to apply.
Click here to register your interest
Open call for Exhibition at Hereford Museum
Hereford Museum are looking for creative works of art inspired by the upcoming Grayson Perry exhibition!
The Grayson Perry exhibition  'The Vanity of Small Differences' is coming to Hereford Museum & Gallery in October (Oct 9-Dec 18).The exhibition of six large scale tapestries by the Turner-Prize winning artist, explore the British fascination with taste and class.
This is your opportunity to take inspiration from Grayson Perry's exhibition and create your own work of art – a tapestry, textile or collage in any media, with a narrative – although not on the same scale!
We would like to display your works of art in the Museum at the same time as 'The Vanity of Small Differences' exhibition, from Oct 9th to December 18th 2021.
Contact Julia for more information –  jradburn2@herefordshire.gov.uk
Deadline: Sunday 28 February
Potfest is pleased to introduce a new venue this year; Compton Verney.  Located in an historic house and well established, award winning arts venue, set in 120 acres of stunning 'Capability' Brown parkland. Located just fifteen minutes from both Stratford upon Avon and Royal Leamington Spa the festival will take place June 25th, 26th & 27th 2021. Over time the shows have become more than just an opportunity for potters to sell their work, they are now a meeting place for old friends.
The shows are a chance for those who usually work alone to get together with likeminded people and somewhere to discuss ideas and techniques, to reenergise and kickstart the creative process. Each of the shows has a competition in which exhibitors are encouraged to make a piece of work to a theme, inviting them to step away from their usual styles and techniques in the hope of developing new ideas, creating new threads and keeping their creativity evolving.

Click here to find out more and apply
Deadline: Friday 19 March
The Cutlers' Company is launching an annual design competition to create a set of contemporary cutlery; consisting of a knife, a fork and a spoon. The winning design will be produced in collaboration with a professional craftsperson / manufacturer and will be scaled up in order to produce a 6-piece dining set and receive a £750 cash prize.
This cutlery will become part of the permanent heritage collection of the Cutlers' Company but also used regularly at Company dinners. It is anticipated the competition will culminate in 2116 when the Company will celebrate its 700th anniversary.
Click here to find out more and apply
Deadline: Sunday 28 February
10 artists selected for the shortlist will be awarded £2,500 each to create a sculpture which will be displayed at the Broomhill Estate in Devon for 1 year. From this list, two winners will be chosen in October 2021. One overall winner chosen by a panel of experts will secure a £15,000 prize. One "People's Choice" winner will secure a £5,000 cash prize.
Click here to find out more and apply
Deadline: Friday 30 April
It is no secret that great art comes from great art. That is why we want to create a new opportunity as part of that process. By encouraging visual artists at any stage in their careers, we hope that music will be a part of their futures. We have chosen 10 of the greatest pieces of music from our catalogue – from Mark Ronson to Stravinsky, Krept & Konan to Pink Floyd to act as inspiration for visual artists to create their own works. Whether a painting, sculpture, installation, video or piece of photography – whoever you are and whatever the music moves you to make, we would love to see it.
Here's how you do it…Step 1 – Choose the song that inspires you the most…Step 2 – The rules…Step 3 – Submit your proposal before April 30th 2021…Step 4 – We'll be in touch!
The finalists will be chosen at the end of May 2021 and granted a £1,000 bursary to create their artwork.Those final works will be exhibited at a London gallery in September 2021. On opening night, the winner will be announced and awarded the £10,000 prize.
Click here to find out more and apply
Jobs & Funding
Creatives wanted to collaborate on our latest project, working with older adults experiencing loneliness, Theatre Ad Infinitum, Bristol
 Choir Assistant – Pianist
 (2 hours per week)
Enthusiastic staff are required to work at Headway House with a group of adults who have an acquired brain injury. We are looking for an assistant who can sight-read well at the piano and ideally is able to sing too!  Contact us at the Centre on 01432 761000
Hauser & Wirth, London
Departure Lounge, Luton
The Shirley Sherwood Collection, London/Oxford
* * *
This library is a resource of successful funding applications that you can learn from. You may found writing them really confusing until  spending some time reading a few and then you can finally get a handle on the language used and the way budgets are put together. Take a look, see if anything is relevant to what you're hoping to do, or learn from other applications' writing and shape. Look at what is being applied to and where, and check out the funders these are addressed to see to if they are appropriate for your project. The library will grow and we'll try to furnish this page with even more information so that everyone can hopefully secure themselves some £££. Click here to view the library
You are welcome to get in touch with one of us (Sarah-Jane Crowson and Lily Morris) using our email address – hcalaunchgrad@hca.ac.uk And if you don't already, follow us on Instagram for posts about grad life and more opportunities for creatives!
If you are involved with a project, or would like to mention something for next week's Launchgrad newsletter, please get in touch!