Launchgrad News, Events and Opps w/c 31st August 2020
August 31, 2020
News
Graduate Outcomes Survey
Did you graduate from a BA course at HCA in the Summer of 2019? You will soon be sent a link to a national survey capturing the activities and perspectives of graduates, known as Graduate Outcomes. This launched in 2018 and is the biggest annual social survey in the UK. We will use your survey responses to help us develop our courses here at HCA. Find out more about the survey on their website, on our blog or by contacting us.
Keep in touch
Are you graduating this September? If so, please don't forget to opt-in to communications from Launchgrad so that we can still send you newsletters and details of opportunities at HCA. To opt-in, click the link below:
LINK:  https://www.hca.ac.uk/keep-in-touch-with-hca
PASSWORD: grad2020
Launchgrad new site
We've updated our new Launchgrad website with weekly news, events and opportunities. We hope to release monthly blogs with more specific advice and resources for creative graduates from the start of the next academic year.
We'd love your feedback about what you'd like to see on our page and other ways we can support you!
You can always get in touch with one of us (Sarah-Jane Crowson and Lily Morris) using our email address – hcalaunchgrad@hca.ac.uk And if you don't already, follow us on Instagram for posts about grad life and more opportunities for creatives!
Events
Saturday 29 August – Sunday 13 September 2020
Reconnection is the theme of this year's Out to Nature exhibition, which has moved to Pensons, near Bromyard, for 2020. The sculpture and art exhibition will be raising money for Cartshed, the Herefordshire and Worcestershire based mental health charity.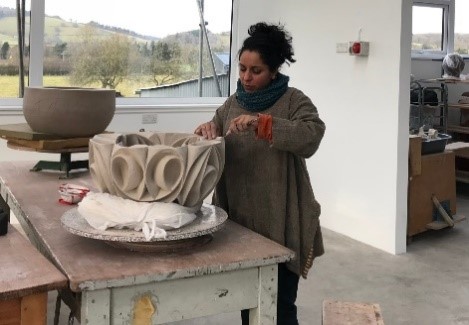 Friday 4 & Saturday 5 September
A virtual carnival will be taking place online on the Friday night as well as a main stage where you'll be able to see the Hereford Heads film premiered. On Saturday, more wacky videos of Carnival favourites like Bym's Bashers alongside a virtual Street Carnival and River Carnival as well as performances and fun things for you join in with and do. There will also be clips and action from the live event featuring the Hereford Heads as they travel around the city.
From Thursday 27 August
Created and displayed as part of an exhibition at the British Museum in 2011 and now making its return, The Tomb of the Unknown Craftsman is a sculpture of an iron ship, sailing into the afterlife. The ship is hung with hand-made replicas of British Museum objects, representing crafts made through history – by forgotten men and women – which have survived into the present day.
Thursday 17 September 2020, 1pm-2pm
Podcasting is Booming – there are very few barriers to launching a podcast but this is as much as a con as a pro! But whilst it is relatively simple to get started, there is a significant volume of podcasts out there. So it comes back to the time-old question of what can you do to stand out from the crowd? Find out how to plan and set up your own distinctively unique podcast with this free webinar.
Find out more and book your free place here
Opportunities
Previous student, Rebecca Farkas is currently involved in a project called 'Object Love' focusing on items in Worcester City Art Gallery &  Museum. You can choose a cherished object from the museum collection or home and tell her the story behind it as part of a new artwork that will be shown online by Worcester City Art Gallery & Museum in the autumn of 2020.
Find out more and submit your item here
Deadline: Wednesday 30 September
Since 2004 The Muse / Gallery & Studio, London has supported a residency program offering recently graduates subsidised studio space, a gallery to show and the means to cultivate both client and industry connections.  Each year we host a group show, awarding the residency positions to a few successful artists. We invite applicants to submit work for an initial group show; all disciplines, with a BA minimum qualification from the previous two years.
Deadline: Thursday 1 October
The ING Discerning Eye is calling for entries for a brand-new edition in 2020. The show gives artists the opportunity to showcase their work in a unique virtual exhibition and win a range of prizes, including the ING Purchase Prize, worth £5,000.
Deadline: Sunday 20 September
Participate in Diane Pernets ASVOFF 12 with the possibility of being featured on A SHADED VIEW ON FASHION FILM Channel on FNL Network in October and also on ARTSTHREAD !! We are looking for a new sensitivity and raw talent and invite all current students and recent graduates who have also found new ways of experimenting during covid-19 – experimenting with the film, video and digital rendering medium to submit their creative films for consideration by our jury that will be announced at later stage. The film can be an fashion editorial, brand collaboration or documentary on a certain aspect that you feel passionate about or a creative art & design related subject.
Deadline: Friday 2 October
Artists are invited to submit work for exhibition alongside members of the Royal Institute of Oil Painters at their Annual Exhibition 2020. The ROI seeks work in oils and is the only national art society devoted to oil painting. This year's mini-theme is 'Reflections', which can be interpreted literally or otherwise, "giving the artist an opportunity to create a site-specific painting or perhaps a piece that has a more contemplative focus".
Find out more and submit your work here
Deadline: Monday 2 November
 The Gilbert Bayes Award for early career sculptors is given annually by the Society to a small group of outstandingly talented sculptors. Selected by the sculptor members of the Society's Board and a guest judge, the award provides vital support during what can be a difficult transition from study to professional practice. The award is open to sculptors of any age or nationality, with or without formal training and working in any style of media.
Jobs & Funding
Graduate Project Assistant
INK, London

Art Studio Technicians
St Ives School of Painting, Cornwall
Gloucester Carnival Programmer Freelance,
Art Shape, Gloucester
Sales Assistant,
Hobbycraft, Hereford
If you are involved with a project, or would like to mention something for next week's Launchgrad newsletter, please get in touch!