Launchgrad news, events and opps w/c 22/3/21
March 24, 2021
News
Graduating this year?
Make sure you sign up to our weekly newsletter before you leave! We share a range of external opportunities, as well as invitations to recent graduates from our BA or MA courses to attend online college events. Please sign up on our website to stay in touch!
Graduate Outcomes Survey
If you graduated from a CAA MA course in 2018-19 please keep your eyes open for an email or message from the Graduate Outcomes team in your inbox. This survey offers HCA valuable information that we use to develop our programmes and it helps us enormously if you complete it. Thank you in advance for your completion, and if you have any queries please visit the Graduate Outcomes survey website or contact s.crowson@hca.ac.uk.
If you're looking to brush up your skills, or try something new, there are a few remaining places on the Summer Short Course programme, starting in April. Choose from a variety of evening classes on their website.
Graduate Associate Membership and Residencies
All Graduate Associate Memberships are currently frozen, due to the current pandemic. Our pilot Graduate-in-Residence scheme is also frozen.
Details of Enterprise sessions and other online opportunities to connect with HCA will be communicated through regular Launchgrad newsletters and on our blog. We will review the situation again in June and will let you know of any changes through our newsletter and blog.
If you are interested in signing up to become an Associate Member, email l.morris@hca.ac.uk
Events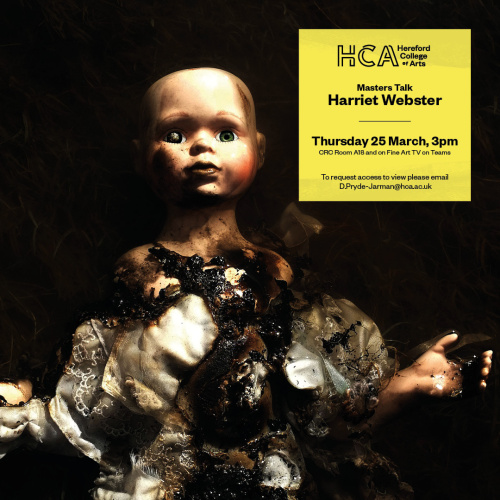 Masters Talk: Harriet Webster
Thursday 25th March 3pm
Please contact D.Pryde-Jarman@hca.ac.uk for access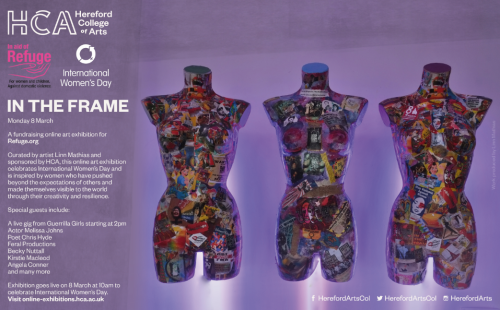 Monday 8 March
The exhibition is curated by HCA BA (Hons) Fine Art graduate Linn Mathias and sponsored by HCA.  This online art exhibition celebrates International Women's Day and is inspired by women who have pushed beyond the expectations of others and made themselves visible to the world through their creativity and resilience.
Click here to visit the exhibition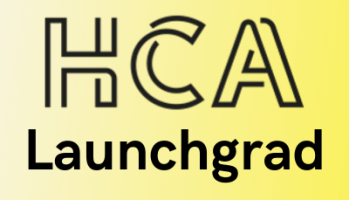 Enterprise Thursday Podcasts
Because it was tricky for people to make live Enterprise Thursday sessions, we are working on a series of podcasts as a replacement. This should offer everyone the opportunity to benefit from advice from our fabulous careers advisor Gail Kilminister.
Click here to listen to Gail talk about how to carry out a skills audit (3 minute listen).
Opportunities
Call for artists: h.art Herefordshire Art Week
For artists living or working in Herefordshire or close to the County border (within 5 miles).
h.art aims to take place from 4 – 12 September 2021.More details on h.art's websiteApplications open: 1 Feb 2021 — 31 Mar 2021 
Applications are open for The FLAMIN Fellowship 2021-2022, a development programme supporting 6 early-career moving image artists based in England. It offers £2,500 funding, mentoring and a programme of workshops covering key areas around sustaining artistic practice.
Application deadline: Tuesday 4 May 2021
Open Call for an animator for the RSL Ondaatje Prize 2021, Royal Society of Literature
The RSL seeks to commission an animator to produce short films for our forthcoming RSL Ondaatje Prize 2021 shortlist and winner announcements.
Full details of the commission can be found in the RSL Ondaatje Prize 2021_Animator Brief.
To be considered for this commission, please send a link to your digital portfolio to RSL Communications Manager Annette Brook (annette.brook@rsliterature.org) by 5pm, Monday 29 March.
In your email please indicate the work in your portfolio you feel is the best indicator of what you could do in these commissions. The commission will be decided by 5pm on Thursday 1 April.
Crafting Business programme for makers
Deadline: 31 March
Have you got a business idea you need support with? Do you need help navigating the complexities of managing your finances, want to sharpen up your presentation skills, or know more about scaling up your business? The Crafting Business programme is here to help you.
We will be selecting 26 makers to take part in this free training programme which will take place between 6 May — 7 September 2021. The deadline for applications is midnight 31 March 2021.
Crafting Business is part of a Crafting Europe project funded by Creative Europe. Eight countries (including the UK) will be delivering their own respective training programmes in 2021 supporting up to 200 makers across Europe. Read more about Crafting Europe
Emerging Artist Award, Neon Art Gallery
Open to all emerging contemporary artists around the globe. The winner of the Neon Gallery Emerging Artist Award will receive full gallery representation with Neon Gallery and will feature in our Future Talent campaign coming in the Spring.
They will also be given the opportunity to show their work in our upcoming group show in June from May 17 – June 21 at The Koppel Project in London, alongside some of our incredible established artists.
There is no charge to submit your work. You can submit up to 5 artworks along with a short, required Artist Statement (100 words max). To apply please head to our website: www.neonartgallery.com/art-award
Any questions please email: hannah@neonartgallery.com
Open Call for Artists – Facade, The Holy Art
We are now accepting submissions for our PHYSICAL exhibition 'FACADE' in London, UK.
Artists from all countries are welcome to submit their works for consideration. You are welcome to submit works in any medium: photography, painting, printmaking, video art, installation, sculpting, mixed media, illustration etc. The theme of the exhibition is OPEN.
Any artist from any background can submit any of their work. There is no charge to submit your application, please feel free to share your work with us. A fee (£100) is applied per artist once they have been selected for the exhibition.
The team will review all applications and the selected work will be announced in April 2021.
Please visit our website for more information: https://www.theholyart.com/physical-open-calls
RIGHTNOW – digital micro commissions, Notnow Collective
Notnow Collective is a migrant-led organisation based in the Midlands committed to platform the voices and work of migrant, parent and carer artists. We are currently radically re-imaging the spaces within which we create and present work.
As our response to this 're-imagining' we are offering three £700 micro commissions to inspire artists who identify as migrant or people with migrant heritage in re-thinking how we make work and who engages with it, and playfully explore the digital medium.
For the full call out and how to apply please visit: https://notnowcollective.com/news/
Open call for Exhibition at Hereford Museum
Hereford Museum are looking for creative works of art inspired by the upcoming Grayson Perry exhibition!
The Grayson Perry exhibition  'The Vanity of Small Differences' is coming to Hereford Museum & Gallery in October (Oct 9-Dec 18).The exhibition of six large scale tapestries by the Turner-Prize winning artist, explore the British fascination with taste and class.
This is your opportunity to take inspiration from Grayson Perry's exhibition and create your own work of art – a tapestry, textile or collage in any media, with a narrative – although not on the same scale!
We would like to display your works of art in the Museum at the same time as 'The Vanity of Small Differences' exhibition, from Oct 9th to December 18th 2021.
Contact Julia for more information –  jradburn2@herefordshire.gov.uk
Deadline: Friday 30 April
It is no secret that great art comes from great art. That is why we want to create a new opportunity as part of that process. By encouraging visual artists at any stage in their careers, we hope that music will be a part of their futures. We have chosen 10 of the greatest pieces of music from our catalogue – from Mark Ronson to Stravinsky, Krept & Konan to Pink Floyd to act as inspiration for visual artists to create their own works. Whether a painting, sculpture, installation, video or piece of photography – whoever you are and whatever the music moves you to make, we would love to see it.
Here's how you do it…Step 1 – Choose the song that inspires you the most…Step 2 – The rules…Step 3 – Submit your proposal before April 30th 2021…Step 4 – We'll be in touch!
The finalists will be chosen at the end of May 2021 and granted a £1,000 bursary to create their artwork.Those final works will be exhibited at a London gallery in September 2021. On opening night, the winner will be announced and awarded the £10,000 prize.
Click here to find out more and apply
Jobs & Funding
Don't forget to check out the Arts Council's job finder page, where you can look for jobs by salary, discipline and region.
Prospects is the national service for Graduate careers. Their quiz will match your personality and profile to jobs or careers which might suit your skillset. You can also find information about post-graduate courses.
Don't forget about the importance of transferable skills in the workplace. This short 2 minute read from NESTA offers insight into how important these are in today's labour market.
This useful website offers you an opportunity to explore what's out there by organising your search through your transferable skillset. Worth looking at if you want to broaden your horizons and find out where your creative talents might be applied in a range of spaces.
* * *
Artist Commissions – Encouraging Vaccinations
Warwickshire Public Health is seeking to appoint an artist/s to produce an innovative piece of work that will encourage the uptake of COVID-19 vaccinations, particularly focusing on communities who are engaging less with the vaccination programme. There are 5 x £2,000 to include all costs. The commissioned artist/s will develop artwork using any media in digital and physical form but it must be something that can be reproduced to reach as many people as possible.
Deadline 5 April 2021.
For the full brief and how to apply please email michellegravatt@warwickshire.gov.uk
Billed as 'coming soon' on their website means that we're expecting a new round of this funding opportunity soon. In the meantime, check out the details on their website to find out more about this grant aimed at supporting individual makers and creatives to develop their practice.
Don't forget to check out NAWM website for a whole host of local opportunities, including current funding streams for creatives.
As you probably already know, funding applications are forms you complete and submit to funding bodies, organisations or trusts in the hopes of gaining money to support something you would like to do. In the arts, funding covers all sorts: a gallery's running costs and programming, artist fees, staff payment, materials, money for research and development, marketing, printing, production, archiving, organisational development, travel… everything really. The arts rely on it. But knowing where to start when writing an application can be difficult; knowing who to apply to can be tricky as well.
If you want to find out what a successful funding application looks like:
Click here to view the library
You are welcome to get in touch with one of us (Sarah-Jane Crowson and Lily Morris) using our email address – hcalaunchgrad@hca.ac.uk And if you don't already, follow us on Instagram for posts about grad life and more opportunities for creatives!
If you are involved with a project, or would like to mention something for next week's Launchgrad newsletter, please get in touch!