Launchgrad News, Events and Opps w/c 4/4/21
April 1, 2021
News
Graduating this year?
Make sure you sign up to our weekly newsletter before you leave! We share a range of external opportunities, as well as invitations to recent graduates from our BA or MA courses to attend online college events. Please sign up on our website to stay in touch!
Graduate Outcomes Survey
If you graduated from a CAA MA course in 2018-19 please keep your eyes open for an email or message from the Graduate Outcomes team in your inbox. This survey offers HCA valuable information that we use to develop our programmes and it helps us enormously if you complete it. Thank you in advance for your completion, and if you have any queries please visit the Graduate Outcomes survey website or contact s.crowson@hca.ac.uk.
If you're looking to brush up your skills, or try something new, there are a few remaining places on the Summer Short Course programme, starting in April. Choose from a variety of evening classes on their website.
Graduate Associate Membership and Residencies
All Graduate Associate Memberships are currently frozen, due to the current pandemic. Our pilot Graduate-in-Residence scheme is also frozen.
Details of Enterprise sessions and other online opportunities to connect with HCA will be communicated through regular Launchgrad newsletters and on our blog. We will review the situation again in June and will let you know of any changes through our newsletter and blog.
If you are interested in signing up to become an Associate Member, email l.morris@hca.ac.uk
Events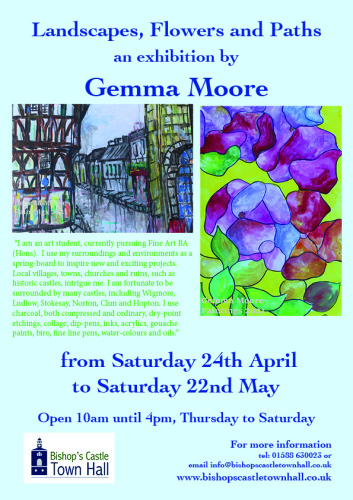 Landscapes, Flowers and Paths: an exhibition by Gemma Moore
Click on the poster above for a larger image that shows details of this exhibition by Gemma Moore, a student at HCA. Please contact info@bishopscastletownhall.co.uk for further information.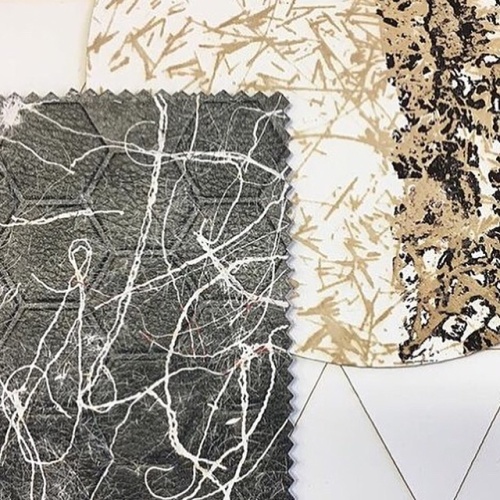 Sustainability in Textile Design
All graduates are welcome to join this panel discussion with students, alumni and staff as part of Fashion Revolution Week at HCA.
Wednesday 21st April, 10.00-11.00am
For an invitation, and/or to share a question you'd like to ask the panel, please email S.Crowson@hca.ac.uk.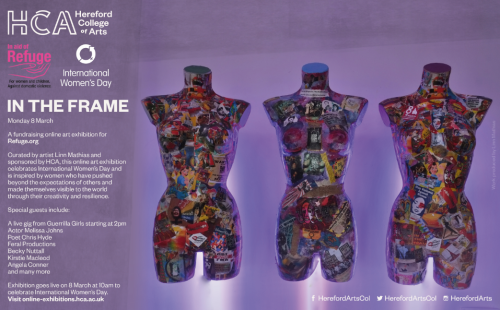 The exhibition is curated by HCA BA (Hons) Fine Art graduate Linn Mathias and sponsored by HCA.  This online art exhibition celebrates International Women's Day and is inspired by women who have pushed beyond the expectations of others and made themselves visible to the world through their creativity and resilience.
Click here to visit the exhibition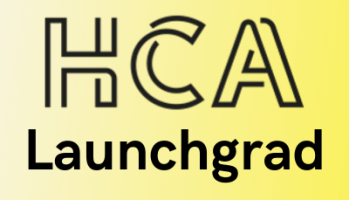 Enterprise Thursday Podcasts
Because it was tricky for people to make live Enterprise Thursday sessions, we are working on a series of podcasts as a replacement. This should offer everyone the opportunity to benefit from advice from our fabulous careers advisor Gail Kilminister.
Click here to listen to Gail talk us through stage two of the three step process, including how to use your skills audit and research skills to position yourself in a market.(3 minute listen).
Pablo Colella of Disconnected Bodies and artist Helena Hunter in conversation with Nick Kaplony of Artquest
With ongoing COVID-19 lockdowns restricting access to galleries, many artists' exhibitions and projects have been postponed or cancelled. The long-term impact on galleries remains to be seen, and lockdowns may lead to fewer galleries in the short to medium term.  With fewer prospects to show artworks in real life and increasing numbers of artists competing for digital audiences, reaching people online to see and buy art has become more important than ever.
Drawing on their experiences of Falling Birds, a recent project which has been closed during lockdown, artist Helena Hunter and audience engagement consultant Pablo Colella will talk about understanding and engaging digital audiences in a way that is sympathetic to an artist's practice, interests and capabilities.  They'll discuss what and where new arts audiences are online, how to reach them, and how artists can present their work online in a meaningful way.
Date: Thursday 15 April, 7–8pm
Booking: free event but booking essential. Book your free ticket on Eventbrite before Thursday 15 April at 12 noon
Opportunities
New Midland Group Development Programme
NMG will deliver an 18-month project centred around a group of core associates who will be offered a slate of activity including mentoring, collaboration and professional development with a focus on interdisciplinary research, redefining collaborative practice and building confidence.
NMG is looking for applications from established artists and individuals with an interest in working in contemporary art, with an emphasis on creatives who have not engaged in formal arts education or are from backgrounds currently under-represented within the sector. Through the programme we aim to support new interdisciplinary discourse and approaches and provide routes into contemporary art.
15 associates will be selected. Applicants must be over 18 and living or professionally based in the Midlands.
NMG Development Programme Associates will receive £500 access fund plus a range of mentoring support and access to workshops.
Click here for more details, including how to apply. 
Please direct any inquiries to info@newmidlandgroup.co.uk
*
Inspire Nature Commissions 
Inspire Nature programme explores how museum collections can help us to better see and understand our natural landscape. The teacher training sessions and accompanying resources have been designed to stimulate creativity, curiosity and imagination and to encourage primary school teachers to make connections between museum objects and nature.
Artists are invited to apply for one of 5 commissions to design and run a teacher training session around one of the five key themes. They aim to fund 5 at first, with the potential to offer more sessions in the future.
They would like you to describe an idea for an online workshop that will inspire primary school teachers to make creative connections between museum objects and the natural world. To submit an idea, answer the questions in the submission form (850 words total) and upload your CV and some images of previous projects.
Click here for more details. Application deadline 16th April
*
Plant Press Zine – Call for contributions
Submit work to our new publication, which will showcase art and writing inspired by the nonhuman world.
With the natural world under ever-increasing threat, the need to address these concerns becomes more important by the minute. The aim of this zine is to shine a light on pressing climate issues, whilst documenting individual reflections and ecological experiences.
The art works will be presented in a limited edition zine, printed with vegetable inks on recycled papers.
Accepted art forms include (but are not limited to): photography, film stills, drawing, painting, printmaking, poetry, fiction and non-fiction writing.
Email your submissions to plantpreszine@gmail.com with a selection of images/words and a little about yourself or your artistic practice.
The deadline for submission is 1st June 2021.
Updates through Instagram @plantpresszine
*
Camberwell Arts Festival: micro-commissions
This year's Camberwell Arts Festival takes place from 19th – 27th June and they're inviting artists to respond to their 2021 theme of Inside Out.
"Covid-19 has turned the world inside out, in so many ways, and we're looking for proposals that bring the outdoors indoors, the inside outside – taking art directly into people's homes as well as open spaces throughout Camberwell.  We want to develop a blended proramme of digital and physical activities that have local audiences at their heart.
As we emerge from the latest lockdown – at a time when art is being made on kitchen tables, from stockpiled loo rolls, with the kids, via Zoom – we want to explore the many ways in which artists are challenging their practice during the pandemic, blurring boundaries between interior and exterior, public and private, physical and digital.
We are offering micro-commissions of £250 to artists who are interested in developing new ideas, extending existing projects or presenting work in progress that responds to this year's Festival theme."
The deadline for submission is 12th April 2021.
Further details and how to apply on the Camberwell Arts website
*
The FLAMIN Fellowship 2021-22
Applications are open for The FLAMIN Fellowship 2021-2022, a development programme supporting 6 early-career moving image artists based in England. It offers £2,500 funding, mentoring and a programme of workshops covering key areas around sustaining artistic practice.
Application deadline: Tuesday 4 May 2021
Emerging Artist Award, Neon Art Gallery
Open to all emerging contemporary artists around the globe. The winner of the Neon Gallery Emerging Artist Award will receive full gallery representation with Neon Gallery and will feature in our Future Talent campaign coming in the Spring.
They will also be given the opportunity to show their work in our upcoming group show in June from May 17 – June 21 at The Koppel Project in London, alongside some of our incredible established artists.
There is no charge to submit your work. You can submit up to 5 artworks along with a short, required Artist Statement (100 words max). To apply please head to our website: www.neonartgallery.com/art-award
Any questions please email: hannah@neonartgallery.com
*
Open call for Exhibition at Hereford Museum
Hereford Museum are looking for creative works of art inspired by the upcoming Grayson Perry exhibition!
The Grayson Perry exhibition  'The Vanity of Small Differences' is coming to Hereford Museum & Gallery in October (Oct 9-Dec 18).The exhibition of six large scale tapestries by the Turner-Prize winning artist, explore the British fascination with taste and class.
This is your opportunity to take inspiration from Grayson Perry's exhibition and create your own work of art – a tapestry, textile or collage in any media, with a narrative – although not on the same scale!
We would like to display your works of art in the Museum at the same time as 'The Vanity of Small Differences' exhibition, from Oct 9th to December 18th 2021.
Contact Julia for more information –  jradburn2@herefordshire.gov.uk
*
Concord Art Prize
Deadline: Friday 30 April
It is no secret that great art comes from great art. That is why we want to create a new opportunity as part of that process. By encouraging visual artists at any stage in their careers, we hope that music will be a part of their futures. We have chosen 10 of the greatest pieces of music from our catalogue – from Mark Ronson to Stravinsky, Krept & Konan to Pink Floyd to act as inspiration for visual artists to create their own works. Whether a painting, sculpture, installation, video or piece of photography – whoever you are and whatever the music moves you to make, we would love to see it.
Here's how you do it…Step 1 – Choose the song that inspires you the most…Step 2 – The rules…Step 3 – Submit your proposal before April 30th 2021…Step 4 – We'll be in touch!
The finalists will be chosen at the end of May 2021 and granted a £1,000 bursary to create their artwork.Those final works will be exhibited at a London gallery in September 2021. On opening night, the winner will be announced and awarded the £10,000 prize.
Click here to find out more and apply
Jobs & Funding
Don't forget to check out the Arts Council's job finder page, where you can look for jobs by salary, discipline and region.
Prospects is the national service for Graduate careers. Their quiz will match your personality and profile to jobs or careers which might suit your skillset. You can also find information about post-graduate courses.
Don't forget about the importance of transferable skills in the workplace. This short 2 minute read from NESTA offers insight into how important these are in today's labour market.
This useful website offers you an opportunity to explore what's out there by organising your search through your transferable skillset. Worth looking at if you want to broaden your horizons and find out where your creative talents might be applied in a range of spaces.
Brexit Advice
If you are a maker shipping work overseas, the Crafts Council offers helpful advice and support about how to navigate the post-Brexit landscape.
* * *
Every discipline comes with its own set of requirements and costs. It can be hard to filter through the plethora of opportunities to find the perfect one suited to your project and its needs. Zealous Magazine have put together a selection of grant initiatives and competitions that stand out as being particularly suited to specific disciplines. Click here to find out more
Billed as 'coming soon' on their website means that we're expecting a new round of this funding opportunity soon. In the meantime, check out the details on their website to find out more about this grant aimed at supporting individual makers and creatives to develop their practice.
Don't forget to check out NAWM website for a whole host of local opportunities, including current funding streams for creatives.
White Pube have put together a funding applications library, with examples of successful bids. They say; "As you probably already know, funding applications are forms you complete and submit to funding bodies, organisations or trusts in the hopes of gaining money to support something you would like to do. In the arts, funding covers all sorts: a gallery's running costs and programming, artist fees, staff payment, materials, money for research and development, marketing, printing, production, archiving, organisational development, travel… everything really. The arts rely on it. But knowing where to start when writing an application can be difficult; knowing who to apply to can be tricky as well."
Click here to view the library
You are welcome to get in touch with one of us (Sarah-Jane Crowson and Lily Morris) using our email address – hcalaunchgrad@hca.ac.uk. If we are not available please email reception@hca.ac.uk. And if you don't already, follow us  on Instagram.
If you are involved with a project, or would like to mention something for the next Launchgrad newsletter, please get in touch. Our next newsletter will be collated after the Easter break, w/c 19/4/21.