News, Events & Opportunities w/c 14th June 2021
June 17, 2021
News
Graduate Associate Membership Update
As you are aware, our memberships have been frozen since the start of lockdown in March 2020. As lockdown eases, we are delighted to let you know that we are now able to trial limited library access for Graduate Associate Members of HCA and can therefore unfreeze your current membership.
To visit the library, you must book in advance by emailing library@hca.ac.uk at least 24 hours before you would like to visit the library.  Library staff will confirm whether there is space available for your visit. There will be no IT or photocopier access, so please bring your own device if you want to use a computer and ask reception staff for guest wifi passwords.  Whilst on-site, Graduate Associate Members must comply with HCA's COVID-code and wear their orange lanyard (available from reception) and GAM badge. Please arrive at the time you have agreed with the library team and please do not visit any other college areas.
Although these are small steps forward, we look forward to welcoming you back to the library and will continue to update and review access in view of government guidance and the need to ensure the safety of the college community. We will initially review after six weeks, and if any changes are made will notify you through the newsletter and blog posts. You will continue to be invited to online events within the college and to receive regular newsletters.
If you are interested in signing up to become a Graduate Associate Member, email reception@hca.ac.uk
Graduating this year?
Make sure you sign up to our weekly newsletter before you leave! We share a range of external opportunities, as well as invitations to recent graduates from our BA or MA courses to attend online college events. Please sign up on our website to stay in touch!
Graduate Outcomes Survey
 Graduate Outcomes is the biggest UK annual social survey and captures the perspectives and current status of recent graduates. All graduates who completed a course will be asked to take part in the survey 15 months after they finish their studies. The survey aims to help current and future students gain an insight into career destinations and development.
We want to understand the graduate perspective and what success looks like for you following your time in higher education. Your responses will help your university or college to evaluate and promote their courses.
You will receive your survey invitation around 15 months after you completed your course. Influence the future of education – be part of the picture.
More information on the Graduate Outcomes Survey Website
Events & Exhibitions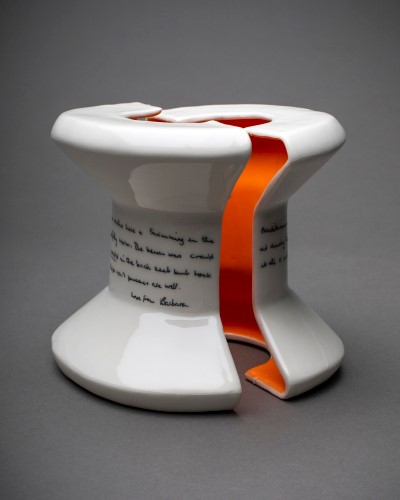 HCA Festival of Arts
Tuesday 8 June – Saturday 10 July
Join us for our summer show and celebration of HCA talent featuring live music, performances, exhibitions, talks and pop-up shops.
Check dates and book your place here
This is Doug Eaton
Applestore Gallery, Hereford
Doug Eaton Is a painter of vibrant abstracted landscapes based in and around the Royal Forest of Dean in Gloucestershire. Influenced by his background as a graphic designer his paintings have a unique quality which evokes the changes of mood through the seasons and with changes of light.
Doug was a friend of Allan Laycock, landscape painter, who sadly died last year and the exhibition will also feature works by Allan as tribute.
Competitions & Opportunities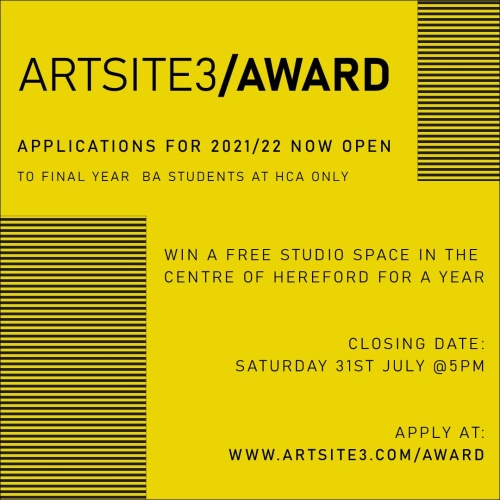 Artsite3 Studio Award 2021
The award is worth over £1000 and provides the graduate with the opportunity to develop their professional career alongside a community of other artists and designers. There is onsite parking, shared access to kilns, sinks, kitchenette and a relaxing outdoor space.
The prize is open to all final year BA students at HCA. The winning artist/maker will be chosen by a panel of Artsite3 artists on the basis of who we feel will benefit most from being at the studios, commitment and passion for their practice.
CLOSING DATE: SATURDAY 31ST JULY AT 5PM
Artist studios now available to rent at Artsite: click here to find out more
JOIN THE COURTYARD MAKERS!
Would you like to be part of a community of independent brands? Are you looking for a physical space to sell your products? We're looking for local and independent artists, designers, creators, merchants and makers to sell their goods through The Courtyard's new retail space… Coming soon!
A big part of #TransformTheYard was the integration of a new retail space. We want this space to be a home for unique gifts, handmade crafts, and artisan creations. We want to create a community of local and independent artists, designers, creators, merchants and makers. Connecting them to shoppers for a personal, unique and more fulfilling shopping experience.
If this sounds like something you'd like to be involved with, please complete the form below with details of your business and links to your range and social media. Tell us about yourself and why The Courtyard would be a great home for your products.
Ceramics Residency at Clay Shed Bristol
Clay Shed is thrilled to be able to deliver our Graduate Residency Programme (GRP) for a second year. Launched in 2020 the GRP provides an exciting opportunity for a recent graduate to access ceramic specialist facilities, join a thriving community of ceramic artists, develop technical skills and gain first-hand insights into the running of a successful ceramics studio.
The GRP aims to bridge the gap between university/college and going it alone by continuing critical conversations about practice whilst offering practical advice about studio management and professional development.
The successful applicant will benefit from:
subsidised personal studio space
access to making spaces, wheels, areas for glazing and plaster casting
professional development opportunities
first-hand experience relating to managing a ceramic studio
opportunities to deliver workshops and classes assisting with open studios and events
£250 grant to support the culmination of a body of work
The GRP is available to recent graduates of ceramic undergraduate and postgraduate courses, or from related degrees where ceramics is used as a primary material. We also accept applications from ceramic specialist HND courses subject to suitable critical engagement with practice. Applicants must be UK based and have graduated within the past 5 years. We will accept applicants who have previously applied.
Maker Collaboration: Bio-Inspired Textiles
The Bio-Inspired Textiles (BIT) team is looking for skilled textile practitioners to attend online events and develop biologically informed textile artefacts in return for a fee.
Funded by the Arts and Humanities Research Council (AHRC) and supported by the Crafts Council, the Bio-Inspired Textiles (BIT) project aims to introduce nature-inspired design to sustainable and circular textile practice. BIT takes an integrated approach that addresses the disconnect between biomimetic research and stakeholders from the textile and fashion communities.
Jobs, Funding & Career Advice
'Steps to Success'
Office for Students have released an interactive resource/guide to support graduates.
This guide is for students who are about to graduate and are at the start of their career journey. It has been produced with 2021 graduates in mind, but current students and recent graduates may also find it helpful. It sets out five important steps to help you, as students about to graduate, think about your choices and what you'd like to do next:
Identify skills
Develop skills
Gain experience
Apply for jobs
Support wellbeing.
OfS encourages institutions to ensure widespread awareness of the resources among students and recent graduates. There is also a link to this resource on the 'Talent Hub' pages of HCA's website.
Arts Council Job finder
Don't forget to check out the Arts Council's job finder page, where you can look for jobs by salary, discipline and region.
Prospects Job Search
Prospects is the national service for Graduate careers and is also a useful source of information about post-graduate courses.
New Art West Midlands
Don't forget to check out NAWM website for a whole host of local opportunities, including current funding streams for creatives.
Round 11 will open for applications on 05 August 2021. In the meantime, check out the details on their website to find out more about this grant aimed at supporting individual makers and creatives to develop their practice
Every discipline comes with its own set of requirements and costs. It can be hard to filter through the plethora of opportunities to find the perfect one suited to your project and its needs. Zealous Magazine have put together a selection of grant initiatives and competitions that stand out as being particularly suited to specific disciplines. Click here to find out more
Thinking about setting up your own business?
For an overview of the basics, you can't go wrong with Gov.uk's overview of setting up a business. They also offer advice on where to find funding and extra support. Our local Growth Hub, which also offers support, can help you with networking and finding funding.
***
BFI Short Film: Costume department opportunity
BFI short film is seeking costume designer/ costume assistant for shoot dates:
Tues 29 June, Wed 30 June & Thurs 1 July 2021 (3-day shoot.)
The film will be made under Covid-19 guidelines and due to Covid restrictions and rural location of filming, ideally looking for people local to Midlands and with own transport.
This is a paid opportunity equivalent to National Minimum Wage and credit in the film. Filming taking place in the West Midlands, at a single location in Pencombe, near Hereford.
We have a great team working on the film and a fantastic story to tell. All the costume is already sourced, so we are looking specifically for someone who can work on location/ on-set in costume for all 3 of the shoot days.
If you are interested and would like to discuss further please do get in touch with the production company Hawkwood Productions by either email info@hawkwoodproductions.com or call 07910 211 413 and we'd be happy to share details about the project for your further consideration.
As we are shooting in a couple of weeks time, we're hoping to find someone over this next week to join the team, so really appreciate any assistance you may be able to offer with our enquiry.
If we could please ask to treat the details of the film as confidential at this time, just as there will be no public announcements at this stage in production, we'd be truly grateful.
Thank you so much,
Emma Westwood (Producer)
Annette Westwood (Director)
Videographer wanted
 Looking for someone to film a 2-3 minute video of an event on Sunday 4th July 3pm til 9pm. Paid. Email Chris Howell chrishowell57@hotmail.com
Photographer wanted
A couple are looking for a last minute wedding photographer for their ceremony on July 3rd. If available, please email Stephen Mackenzie stevegbmac@hotmail.com
You are welcome to get in touch with Sarah-Jane Crowson at s.crowson@hca.ac.uk-  And if you don't already, follow us on Instagram for posts about grad life and more opportunities for creatives!
If you are involved with a project, or would like to mention something for next fortnight's Launchgrad newsletter, please get in touch!