Launchgrad News, Events & Opps w/c 26th October 2020
October 26, 2020
News

HCA Library Click & Collect for Graduate Associate Members
HCA library is pleased to be able to offer Graduate Associate Members a 'Click and Collect' library service, up until Christmas 2020.​You will be able to reserve up to five books from the library, which you can then collect from Reception at College Road Campus. You can search the library catalogue and reserve books online here:
http://hlcollege.cirqahosting.com/ or you can just email us your requests on library@hca.ac.uk.
​​To log onto the library catalogue –  your Reader Code is the number under the barcode on your student ID card and your PIN number is the last four digits of that number.
We will then let you know when they are ready for collection. Please email us on library@hca.ac.uk with any questions.
 Graduate Outcomes Survey
If you graduated from a BA course at HCA in the Summer of 2019 you may have already been sent a link to a national survey capturing the activities and perspectives of graduates, known as Graduate Outcomes.
We'd like to thank those who have already filled out their surveys – thank-you SO much – this really helps us. And if you haven't already been sent a survey please keep an eye out for a link or text from the Graduate Outcomes team.
We will use your survey responses to help us develop our courses here at HCA. Find out more about the Graduate Outcomes survey on their website, on our blog or by contacting us.
Graduate Associate Membership and Residencies
We have had to freeze access for Graduate Associate Membership so that we comply with COVID safety guidelines around physical access to buildings. For the same reason we have also had to freeze the Graduates in Residence scheme, but will soon be circulating a short  'expression of interest' form to this years grads so we have a record of those who may be interested in the scheme in future.
Please email Lily Morris if you are interested in applying for Associate Graduate Membership
Events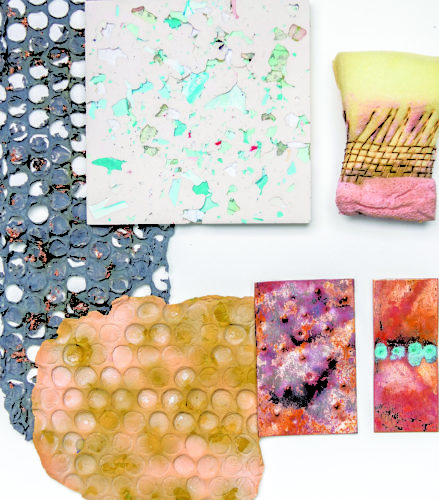 Wednesday 4th November, 12:15pm
We set up this group in March and then carried on through the lockdown on zoom. It The idea was for a regular (monthly) meet up for makers from college, aimed mainly at L6, MA and graduates, though open to all, for a chance to meet with others and discuss anything to do with making – what we are currently making, good exhibitions to visit, tips, etc.
This academic year, we will be meeting on the first Wednesday of the month at 12.15 on zoom for a 40 minute session. Hopefully we might be able to move back to the CRC library when restrictions ease! The theme for 4th November is: What we are making now.
Join the meeting on Zoom here
Meeting ID: 783 7451 1742
Passcode: 0PE6Lg
Enterprise Thursday
Thursday 29 October, 12.30pm – 1:15pm
If you are interested in joining the next Enterprise Thursday meeting, please email Sarah-Jane Crowson
Opportunities
Deadline: Sunday 15 November
»Designers in Residence« is directed towards young designers especially in the areas of jewellery, fashion, accessory and industrial design. Interdisciplinary working methods are welcome. In total there will be three scholarships for a three-month working phase at the EMMA Creative Center in Pforzheim. The scholarship holders will have access to fully equipped workshop workplaces as well as coworking desks in the EMMA Creative Center.
Deadline: Monday 16 November
It's been 3 years since we started to do pop up exhibitions in London and almost a year since we've opened the doors of our permanent gallery space in Aldgate. With support from artists and audience from all around the globe we have decided to make the next logical step into our ongoing ascendence in the international art scene, "SOLO SHOWS".
Find out more and submit your work here
Deadline: Monday 30 November
The Austrian Cultural Forum London invites emerging photographers based in Austria and the UK to participate in a prize in tribute of the late Austrian émigré photographer Wolf Suschitzky. For our second edition of the prize, we invite submissions by emerging photographers on the theme of 'Life in 2020'.There are two prizes available: 1. An Austria based winner will receive a two-week ACF London residency + €500 cash prize and 2. A UK based winner will receive a two-week Vienna/Salzburg residency + €500 cash prize Both residencies will be offered in 2021. The winners will be invited to show their work at the ACF London in an exhibition in spring 2021.
Deadline: Tuesday 1 December
The Sculpture Garden is an established biennial outdoor selling exhibition.This contemporary garden sculpture show is hosted by The John Lewis Partnership and is the headline event for Cookham Festival of the Arts. The Sculpture Garden supports and promotes makers in a multitude of disciplines at various stages of their careers. We welcome unusual works as well as more traditional forms.  We embrace showcasing young committed artists launching their careers. Artwork must be created to survive outside and be of sufficient scale for display in the gardens. We are not able financial assistance for transport costs or installation. We do require that you are a professional working artist.
Deadline: Monday 9 November
Distinctly Birmingham offers a 4-day residency or digital residency, in Birmingham (or remotely) for research and inspiration by drawing on the people, places and histories unique to the city followed by a presentation event at a later date to present the developed ideas to a room of local businesses, organisations and councillors. Artists will develop ideas for public realm projects. We encourage established artists from a wide-range of disciplines to apply.
Deadline: Sunday 15 November
The GENDERhouse#2 Queer Arts Festival is open for applications for full length performance works that either tackle themes of gender, sexuality or identity or that defy traditions, queer the boarders of what performance is and can be, or have an artistic expression that stands out from the "artistic usual or genre normative".  We seek works that are bold, daring, artistically uncompromising and unapologetic for their form.
Selected performances will be programmed as part of The GENDER House#2 Queer Arts Festival between 24thSeptember – 10th October 2021. The works will be presented as part of the festivals program between the theatres: Bora Bora – dans og visuelt teater and Åbne Scenen, Godsbanen in Aarhus Denmark.
Jobs & Funding
Various part time roles available
Business Assistant, Resource Assistant,
Administration/Management Information Assistant, Curriculum Support Tutor
Hereford College of Arts
Site Supervisor
Manchester Craft & Design Centre
Creative Arts Referral Co-ordinator
Warwickshire County Council
Creative Producer
Ffotogallery, Cardiff
 Visitor and Events Coordinator
New Art Centre, Salisbury
You are welcome to get in touch with one of us (Sarah-Jane Crowson and Lily Morris) using our email address – hcalaunchgrad@hca.ac.uk And if you don't already, follow us on Instagram for posts about grad life and more opportunities for creatives!
If you are involved with a project, or would like to mention something for next week's Launchgrad newsletter, please get in touch!
Hereford College of Arts
Folly Lane
LaunchgrAD Hereford
HR1 1LT
Switchboard: 01432 273359
Short Courses: 01432 845302
Ý Launchgrad Ý Follow us on Instagram – @hcalaunchgrad Ý
♻ Please think about the environment before printing this email – Thank you