Launchgrad News, Events & Opps w/c 11th January
January 14, 2021
News
Graduate Associate Membership and Residencies
All Graduate Associate Memberships are currently frozen, due to the current pandemic. Our pilot Graduate-in-Residence scheme is also frozen.
HCA promised to review this situation in January 2021. But as you'll be aware, the situation in the UK regarding Coronavirus continues to be volatile and we have therefore currently suspended standard on-campus teaching for seven weeks as part of the current national lockdown situation. Given this situation, we will continue to freeze all Graduate Associate Memberships and will continue to deliver all Enterprise sessions online.
Details of Enterprise sessions and other online opportunities to connect with HCA will be communicated through regular Launchgrad newsletters and on our blog. We will review the situation again in June and will let you know of any changes through our newsletter and blog.
 
Please take the time to complete our Launchgrad 2021 survey which will help us tailor the content of these newsletters going forward into this year. We are grateful for all feedback and the survey will close on 1 February.
Click here to visit the page.
 Graduate Outcomes Survey 
We'd like to thank those who MA Fine Art students who have already filled out their surveys – thank-you SO much – this really helps us. And if you haven't already been sent a survey please keep an eye out for a link or text from the Graduate Outcomes team.
If you graduated from a BA course at HCA in the Summer of 2019 you may have already been sent a link to a national survey capturing the activities and perspectives of graduates, known as Graduate Outcomes.
We will use your survey responses to help us develop our courses here at HCA. Find out more about the Graduate Outcomes survey on their website, on our blog or by contacting us
Events
Friday 22 January, 10.30am-4.30pm
£25 – 40
An online portfolio improvement workshop with Sarah van Gameren from @studioglithero to help make your portfolio stand out from the crowd.
Thursday 21 January, 6 – 7pm
£5
An online, live presentation by curator and arts fundraiser Niamh White that introduces the world of creative funding and goes some way to demystifying the processes and mechanisms involved in making successful applications.
Until Saturday 23 January, 10am – 6pm
A Conversation with Keith Haring… presents a body of work exploring the historical and contemporary discourse of the AIDS/HIV crisis. The exhibition brings together a body of work addressing issues related to societal pressures, ideologies and stigma.
Opportunities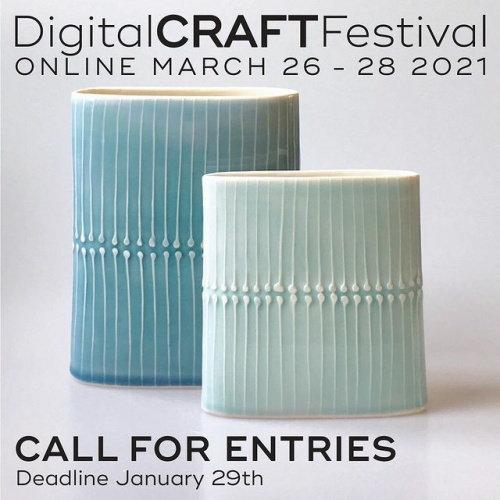 Deadline: Friday 29 January
Craft Festival is delighted to announce applications are now open for our Spring Digital Craft Festival. This online event will represent the finest makers working in ceramics, glass, textiles, jewellery, metal, wood, plastics, mixed media, leather, recycled materials, printmaking and paper to the highest standard. We will host an exciting mix of live workshops, demos and talks and the opportunity to meet and buy from 100 of the finest designer makers from across the UK and Europe.
Click here to find out more and apply
Deadline: Monday 1 March
We welcome submissions for New Contemporaries 2021 Programme from emerging artists who are final year students, recent graduates and postgraduate students from UK art schools and alternative learning programmes. Being selected for the 2021 programme includes exhibiting as part of Bloomberg New Contemporaries 2021 at both Firstsite, Colchester & South London Gallery, participating in New Contemporaries Bridget Riley Artists' Professional Development Programme, contributing to our Digital Programme of blogs, vlogs, workshops, events and the opportunity to present work on our online spaces and being eligible, as alumni, for Studio Bursaries, Residencies, Scholarships and other opportunities.
Click here to find out more and apply
Deadline: Sunday 17 January
Primal Media are looking for artists who can design and create epic pieces of public art. The winner will receive a money- can't – buy prize: the opportunity to build the next great permanent British Landmark. If you have the skill and creativity to create art on a grand scale  and have ideas for a brand-new British Landmark, we want to hear from you!
Click here to find out more and apply
LOCKED IN? MAIL OUT.
Our FAD team have started a project open to all – illustrating mail to HCA. On the Foundation Diploma in Art & Design we feel that at this time, it is more important than ever to feel part of something bigger.  Sometimes the most exciting things can happen when the most mundane things are seen from a different perspective and we have the opportunity to share our experiences.
WHAT YOU NEED: Anything which can be drawn on, or added too (old paper, cardboard, magazines, shoes etc)
drawing media, 2nd class stamps (which can be bought from supermarkets)
Task 1. Create a piece of work/s in any appropriate media and scale. Remember that the address and stamp are integral to your design, the only limatation is that whatever you make must be able to be posted.
Task 2. Please title and name your work and where you study/work on the reverse side.
Task 3. As part of your daily excercise walk to a postbox and send to: MARKETING, Hereford College of Arts, Folly Lane, Hereford HR1 1LT.
Task 4. Keep sending. (daily/weekly/monthly)
Deadline: Sunday 31 January
Opportunity for UK-based collectives, individuals and organisations to submit proposals of creative ways to initiate a worldwide conversation that engages global youth audiences in response to climate change. The maximum funding available for this work is £25,000 (inclusive of VAT) and applicants must submit a budget breakdown as part of the application.
Click here to find out more and apply
Jobs & Funding
The Queen Elizabeth Scholarship Trust (QEST) awards scholarship and apprenticeship funding of up to £18,000 to talented and aspiring craftspeople working in a broad range of skills. QEST funds traditional college courses, vocational training or one to one training with a master craftsperson. Apply here
Proposals should focus on the history and theory of craft's intersections with particular conflicts and should ideally be located in disciplines such as art history, design history, archaeology, material culture studies or other comparable humanities subjects.  However, practice-based proposals, that emanate from historical research, will also been considered. Apply here
Creative Youth Network, Bristol
Granby Workshop, Liverpool
Royal Opera House, Essex
Bolton at Home, Bolton
You are welcome to get in touch with one of us (Sarah-Jane Crowson and Lily Morris) using our email address – hcalaunchgrad@hca.ac.uk And if you don't already, follow us on Instagram for posts about grad life and more opportunities for creatives!
If you are involved with a project, or would like to mention something for next week's Launchgrad newsletter, please get in touch!