Launchgrad news, events and opportunities May 2022
May 4, 2022
Launchgrad Newsletter May 2022
Hello, and welcome to June 2022 Launchgrad newsletter. We hope that some of you were able to attend the online professional practice lectures last month – and if you didn't there are more coming up this month (see details later in the newsletter).
To find out more about other Launchgrad activities, please click here.
If you have any suggestions about what  information and resources you would like to see in the monthly Launchgrad newsletter than please get in touch at hcalaunchgrad@hca.ac.uk or reach out to A.knight@hca.ac.uk

CMYK Festival!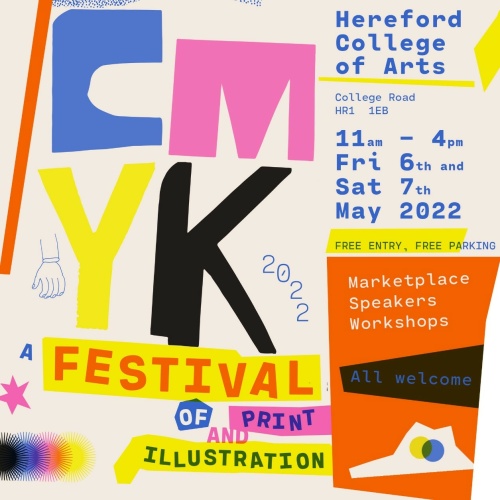 CMYK 2022 is be a celebration of print and illustration taking over the college with workshops, panel discussion and guest speakers from some of the Midlands top illustrators and print professionals including Molly Fairhurst and Design for Today's Joe Pearson.
Started in 2019, by the BA Illustration course leaders, Neil Hadfield and Nicholas Stevenson, CMYK Festival finally it back post-pandemic.

The event will be on Friday 6th  and Saturday 7th  of May 2022, 11am – 4pm, with all
age workshops going on throughout the day.
Follow @cmyk.festival on Instagram, or click here or more information.
Joe Broughton's Conservatoire Folk Ensemble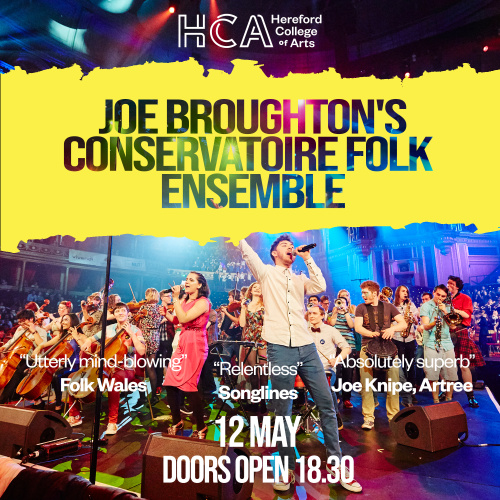 With a stage-challenging 50 members, among them are fifteen horns, four cellos, five percussionists, five electric guitarists, plus fiddles, flutes, alongside many more! With membership coming from across courses at Royal Birmingham Conservatoire, the personal influences of each member shapes the set-list, as traditional English and Celtic reels slide into full-on rock grooves, funk, jazz, hip-hop, ska and reggae.
The gig will be one of the highlights of Music Week, a programme curated by BA
Creative Sound + Music students, which also features a live music night at the
Speakeasy on Friday which is open to the public, and discussions around women, minorities + culture for existing students.
Joe Broughton's CFE – 12th  May at 7.30pm
Open to the family and friends of the college
£7 entry on the door
Please email Alex Gordon at A.Gordon@hca.ac.uk to confirm your attendance
Meadow Art Trustees (no apostrophe)
Last line of the whole thing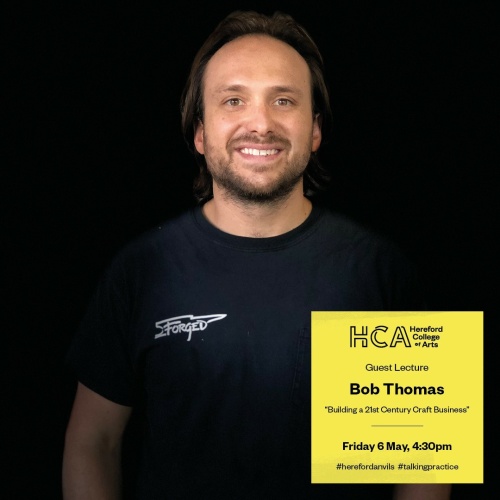 Bob Thomas – 'Building a 21st Century Craft Business'
Friday 6th May 4.30 – 5.30pm
HCA Alumni and Founder of Robert Thomas Iron Design explores all aspects of forged metal design.
All lectures take place online over TEAMS. For further information about TEAMS check out the microsoft help pages, which have useful information and videos to support you.
We regret that as a small team we cannot respond to individual queries about lecture content or support with IT issues.
Please contact D.Done@hca.ac.uk for a joining link for the session.
Artists' Collecting Society opportunity
ACS is offering an artist the chance to win £4,500 to contribute to the cost of an artist's studio in the UK. If you are a UK or EEA national and are an undergraduate or postgraduate university student on an accredited art course who is about to graduate, or if you have graduated from a university accredited art course within the last four years, and you work in pictures, collage, painting, sculpture, tapestry, ceramics, glassware or photography, then you are eligible to apply for the prize.
Full details here.
Deadline: 30 June
Call for entries – The Healing Power of Art Exhibition, The Arches Project
Join The Arches Project in their celebration during our 2022 Commonwealth Games by creating beautiful and unforgettable memories in your life, to display in 'The Healing Power of Art Exhibition'.
Full details here.
Deadline: 13 June 2022
Call for Entries – Wales Contemporary / Cymru Gyfoes 2022
Now in its third year, Wales Contemporary / Cymru Gyfoes is an international open competition developed by the Waterfront Gallery with support from the Welsh Government. Wales Contemporary invites artists from all around the world to enter work in 2D or 3D and any subject matter. Accepted mediums include painting, sculpture, drawing, print, ceramic, glass, textile, collage, mixed media, and more.
Deadline: 19 July
Full details here.
Meadow Arts are recruiting Trustee's 
They are recruiting new trustees to help shape and develop Meadow Arts. They are looking for people that bring a new outlook / different lived experiences and those who reflect the diversity of the communities in Herefordshire, Shropshire and Worcestershire which they serve. You might be a teacher, a young person with an interest in contemporary art or an older person with a rich career looking to give-back by sharing some of your knowledge and experience, particularly of engaging with culture in rural areas.
Full details here.
Glyndebourne Tour Art Competition 2022
Visual arts have always been an integral part of Glyndebourne, on and off the stage, and the annual Tour Art Competition, which has been running since 2013, offers a platform for new artists to raise their profile. 2022's competition challenges new artists to submit an artwork based on the theme of 'Disguise'. New artists, aged 16+ with less than five years' experience of showing their work, are invited to submit one artwork.
Deadline: 3 July
Full details here.

British Council Connections through Culture Professional Development Grants
For over 16 years, the British Council has run a well-established Connections through Culture programme, which enables collaboration between creative and cultural professionals in China and the UK. Included in this are Professional Development Grants – a limited number of small grants to enable artists or members of arts organisations to work with their counterparts in China or the UK online, to develop projects, exchange skills or see others' work.
More details on the British Council website
ARTCRY
ARTCRY is a new fund that aims to encourage artists to create bold political work with funding in seven days to enable fast action.
For more information and criteria see the ARTCRY website.
Advice on applying for funding
If you're wondering whether you're ready to apply for grant funding for your project, have a look at 'When to apply for Grants', an excellent article from Artquest which talks you through what you'll need to critically consider before downloading that application form.
'Steps to Success'
Office for Students have released an interactive resource/guide to support graduates.
This guide is for students who are about to graduate and are at the start of their career journey. It has been produced with 2021 graduates in mind, but current students and recent graduates may also find it helpful.
The Next Generation
This helpful series of articles from It's Nice That offers up-to-date information and advice for creative graduates, including around networking in a pandemic world and what to charge for projects.
Funding for Further Study
Find out about doctoral loans (government funding) on the government's website.
Funding for doctoral level study in the Arts and Humanities is generally made through the Arts and Humanities Research Council. Look at the AHRC website for more details. Alternatively, you can use specialist websites like  'Phd'.
Careers Advice
We are very pleased to be able to offer graduates who have graduated within the last 18 months the opportunity to apply for free careers advice with HCA's careers advisor, Gail Kilminster. There will be around 16 tutorial appointments with Gail each month. To book one please email G.Kilminster@hca.ac.uk. Slots will be allocated on a first-come, first-serve basis. This is a pilot offer and will be reviewed regularly.

For direct enquiries please email hcalaunchgrad@hca.ac.uk or email enquiries@hca.ac.uk for general enquiries.
Follow us on Instagram to to make sure you don't miss out on opportunities and grants.